After several months of internal use here at Early Impact, today we are officially releasing SubscriptionBridge, our subscription management system.
SubscriptionBridge adds subscription management features (e.g. HTML notifications, ability to edit a subscription by adding or removing features, etc.) to popular and robust recurring payment systems like Authorize.Net ARB and PayPal Recurring Payments.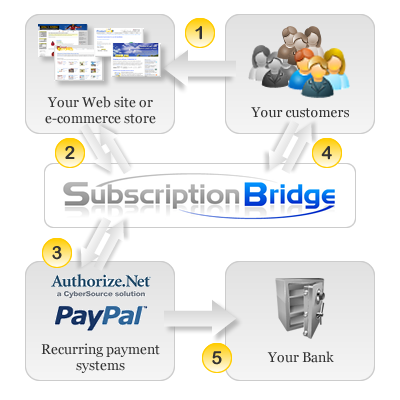 Of course, SubscriptionBridge works with ProductCart too! When you use the two together, you can run an ecommerce store that sells both subscriptions and non-subscription products. SubscriptionBridge support is built into ProductCart v4.1 and above.
And since not everyone uses ProductCart as their ecommerce software (not sure why, but – hey – not our fault), we are integrating SubscriptionBridge with other shopping carts as well, starting with Magento, a popular PHP shopping cart.
Head over to the SubscriptionBridge Web site for more details and sign up for free trial.