At Early Impact we like to focus on what we do best, which is developing quality e-commerce software (this year we are celebrating 10 years of e-commerce development!).
Among the things that we don't provide directly is Web hosting services. Yet, many customers ask us about suggestions on where to host their ProductCart-powered store. So, finally… here is a list of Web hosting companies that provide ecommerce hosting services to lots of ProductCart customers, and that might be good fit for you too.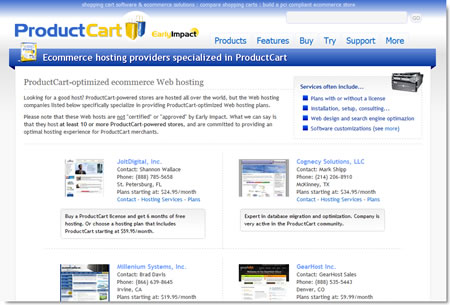 We didn't "certify" these companies (we don't have an official Web hosting certification program, which would be pretty hard to implement), but we can tell you that:
They host a bunch of stores that use our shopping carts (10 or more stores)
They've being doing so for quite some time
They are committed to providing you with a ProductCart-optimized hosting environment
BTW: if you are a Web host, meet the requirements above, and we forgot you, contact us!