One of the biggest headaches of running an ecommerce business is getting data from the online store to your company's accounting package. As things grow and your company starts using a CRM and/or ERP system, moving data to and from those systems becomes another headache.
Up to this point ProductCart users have been able to leverage our shopping cart's integration with Quickbooks – which was developed in-house – and an integration with Peachtree accounting through CartSpan. And what about the many other accounting packages? And CRM systems?
Say "Hello!" to eBridge Connections, a SaaS application that bridges ecommerce systems and accounting, CRM, and other applications. They recently completed the integration with ProductCart. The eBridge Connector to ProductCart includes their three standard ecommerce touchpoints:
uploading inventory level updates to the Web store
uploading new products to the Web store
downloading orders from the Web store
The Connector offers two-way integration with over 40 popular accounting packages.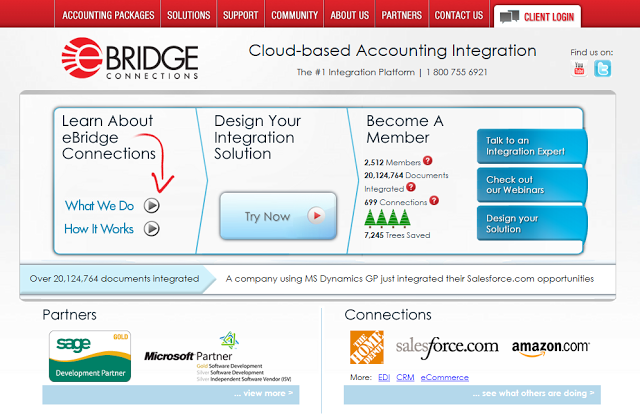 In more details…
It supports more than 40 accounting packages including Microsoft Dynamics GP, AX, SL, NAV & RMS, Sage MAS 90/200/500, Sage ERP 100, Peachtree, QuickBooks, SAP, Accpac, Epicor, NetSuite and more.
The eBridge Connections platform can also integrate ProductCart with EDI trading partners, like WalMart or Home Depot; CRM applications like Salesforce.com and eCommerce marketplaces like Amazon.com and eBay.
Pricing begins at around $1,000 per year and grows depending on the services needed.
In the words of eBridge's CEO, Colin Brown, here why it makes sense for a merchant to consider eBridge: "In a competitive ecommerce marketplace, most merchants don't have time to type orders into their accounting package manually. The new eBridge connector for ProductCart helps vendors automatically integrate inventory levels, orders and product data between their web store and their accounting package or ERP. This eliminates data entry, speeds up the order-payment-delivery cycle and allows ProductCart users to focus on growing their business."
Here at Early Impact we don't have any direct experience using the eBridge Connector, but what we do know is that this type of integration often pays for itself pretty quickly as the volume of orders that you are processing goes up, and as inventory synchronization becomes a bigger issue. The time saved on boring data entry can always be spent doing something more sales- or marketing-oriented, and more fun 🙂
To learn more and see if it could work for you, try out their solutions builder, or give them a call at 800-755-6921.
If you end up trying eBridge, please share your experience with other ProductCart users in the comments below.