If you run a business website, it's time to seriously consider going mobile.
Mobile E-commerce, or "M-commerce," isn't just about ringtones or app stores anymore. In 2011, for example, Ebay mobile E-commerce accounted for $5 billion — that's billion with a "B" — in sales, which the company expects to grow to $8 billion in sales for 2012.
I know what you're thinking: Your website isn't Ebay, so how does anything associated with the retail and auction giant apply to your business? The important thing isn't the raw numbers or the size of the company. It's not necessarily just about E-commerce, either. The critical item to consider here is the trend.
As more and more people sprout smart phones at the ends of their arms, they're increasingly coming to depend on the devices to inform many of their daily decisions. Here are a few numbers from a 2010 study of what smart phone users did with their mobile access: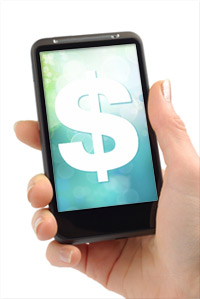 53 percent used their phone to look up the address of a business or business hours
44 percent checked the price of an item online while in a store
44 percent read a product description
39 percent looked for a service or product coupon
37 percent checked an item's availability for in-store pickup
35 percent read a product review
35 percent made a purchase
A lot of mobile commerce is built around dedicated smart phone applications — "apps" — which can be expensive to develop and are thus out of the price range of many smaller retailers. But you don't have to develop your own app in order to participate in the emerging mobile marketplace. A number of services like Placecast, Shopkick and WHERE Deal Alerts help connect businesses with mobile users, usually through location-based, opt-in marketing services.
If you run an E-commerce website, going mobile isn't as expensive as you think. You don't need a dedicated smart phone app; all your store really needs is a site version optimized for mobile use and display. Mobile-optimized sites provide smart phone users with an experience scaled down from your "desktop" website, but still provide key functionality for viewing products and placing orders.
Depending on whose projection you read, mobile sales are expected to account for anywhere from 9 to 13 percent of global E-commerce by 2015.  With businesses like Ebay Mobile already "beating the Street" and its business projections, chances are the percentage may run even higher.
Sounds like a good time to get on top of the wave.