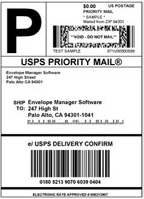 Many ProductCart merchants sell products that are well suited to shipping via the U.S. Postal Service… are you one of them? If you are sending lightweight packages to residential addresses (the "sweet spot" for the USPS), you might want to consider the time savings allowed by printing postage directly on the shipping label. Everyone knows that "time is money", so that alone is enough to justify it… but there are also some real, hard-dollar savings associated with using DYMO Endicia:
– Eliminate trips to the Post Office
– Lower insurance costs
– Free packaging material
– Eliminate fuel surcharges
– Priority Mail Flat Rate boxes are a low cost way to send dense items long distances within the US
– Priority Mail Regional Rate boxes are a low cost way to send dense items one or two zones
Also, keep in mind that the USPS is the only major carrier that ships to military addresses (APO/FPO) and PO Boxes.
DYMO Endicia is a licensed partner of the U.S. Postal Service that provides trusted, convenient and affordable online shipping and mailing solutions. They have more than 25 years of postal industry experience and their customers have printed over $8 billion in postage.
If you'd like to integrate DYMO Endicia technology and you are using ProductCart v4.1 or higher, you can get started here:
http://wiki.earlyimpact.com/productcart/shipping-usps#integration_with_endicia
Next week, look for a Case Study from a ProductCart store that is using the Endicia integration to learn how it is helping their shipping department!