What's a "good" product description?
The main goal of Google is to provide it's users, your customers, the most relevant products based on their needs or wants, prioritizing different websites based on cues such as keywords, historical data, and overall domain authority. It's up to a business owner, or SEO specialist, to optimize a website and help Google with those cues. A common issue with ecommerce websites are the lack of descriptive product descriptions, which is a major issue considering those descriptions can have a major impact on SEO. For example, a poor product description would look like:
"Classic motorcycle leather jacket. Riding grade cowhide leather. Sizes 28-60, extra charge for sizes over 48."
The lack of details and overall laziness of this description doesn't help much with SEO efforts. Here's an example of a good product description for the same product:
"The classic motorcycle leather jacket features riding grade cowhide leather and top quality, bright finish hardware, providing protection from the elements as well as good looks and comfort. The Basic Leather Jacket comes in Black, White and Red, and allows you to rock out without breaking the bank. Looking to add style? Buy a pack of our studs or spikes, a couple patches and paint it with Testors Paint Markers. If you don't know your jacket size, measure your chest at its widest area, which is usually 6-8″ bigger than your waist. Our men's jacket sizes range from 28-60 (even sizes) but there is an extra charge for sizes over 48."
As you can see, a good product description should provide users with a clear and cohesive paragraph focused on the most important information about your products such as: unique selling points, sizes, types, colors, benefits, etc. The major difference between the two is the quality of information provided to the user. Google will reward businesses who go the extra mile and give consumers the necessary details to make an informed buying decision.
How do product descriptions affect SEO?
Search engines rely on numerous factors to identify how and where a webpage should be ranked, and one of the most important determining factors is keyword relevance.
When a user types in "classic motorcycle leather jacket for sale," and the above product description has given an explicitly detailed description filled with relevant keywords, the user is more likely to see your webpage in their search results.
Better descriptions will equal better search results! Seems simple right? Well, it can take some work, research and time to see what keywords to target, what your actual market is searching for, and how to correctly optimize your descriptions for relevant searches.
Don't have the time? Let one of our SEO Experts help you out today!
So if you are looking to go ahead and improve your product description SEO, here are a few pointers that will start you out in the right direction!
Write For Buyers NOT Bots
So many people think they need to write their descriptions to appease the search engine web crawlers, and this simply is  not true! Product descriptions should be written with a buyer in mind. They should be helpful, descriptive and useful.
What is good for your audience is also good for search engines! The main concern here being usability. So if you write well for your audience,  Google will take notice and you will start to reank higher and higher in search.
Benefits Over Features
While having the features included in your product description can be helpful, it is even more pertinent that you include the benefits of the product as well. Yes, people want to know about the product, but they also want to know what it can do for them and why they need it.
People need a clear picture of how they will use something they plan on buying. For example: When talking about a pair of water-proof winter boots. It would be better to state what you can do with the boots on!
Stomp through puddles and slush through the snow! Our waterproof rubber liner will keep your feet dry and the soft fabric lining will have your feet feeling cozy all day long.
The above description gives the reader an idea of how they would feel wearing the shoes, and the description is vivid which will benefit you in your ranking.
Find the Right SEO Product Keywords
They key to getting customers into your eCommerce store is to hit the right SEO keywords. You want to target the right audience and help the search engines actually understand what is on your pages.
In your quest to find the right keywords, you can use helpful tools such as SEMrush, Moz Keyword, or KWFinder. These will help you research things like search volume, keyword difficulty, and related terms.
Avoid Duplicate Content
While it may be easier to use the same or similar descriptions for similar products… I would strongly advise that you avoid it at all costs. Google does not like duplicate content, and it can cause issues when search engines are trying to index your pages.
The best way to avoid this is to create unique description and product title for each and every product on your website. If this is impossible, then you can add in a "no index" meta tag to pages you don't want to be crawled by bots.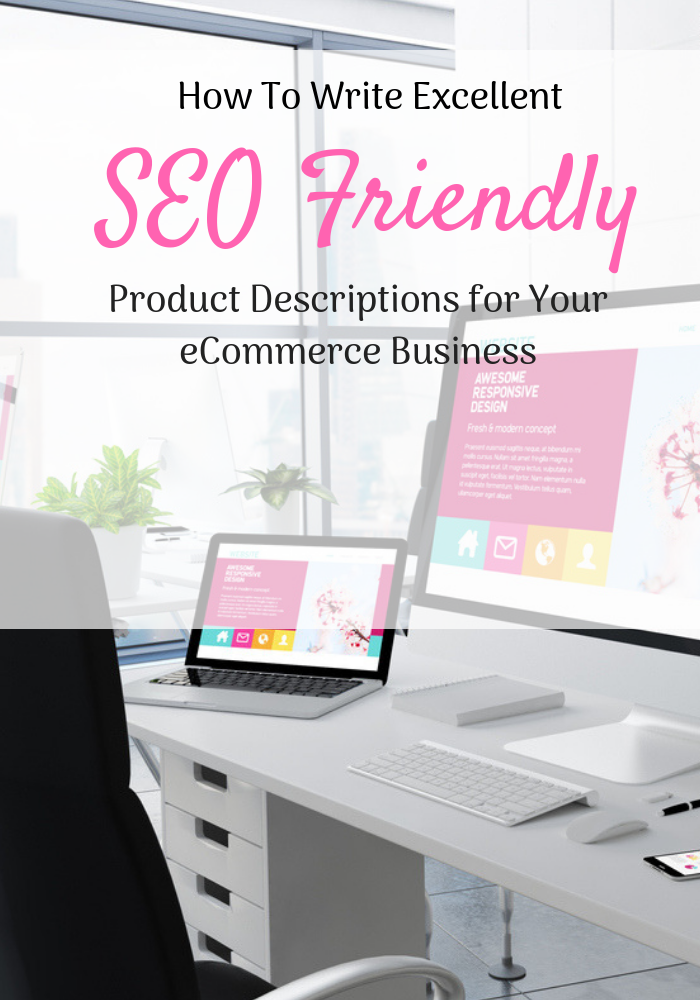 SEO takes time and work, but it is a worthwhile investment in the future of your business!